TAB Silver Mica Capacitors
TAB Components based in Newton Abbott were acquired on 29th October 2014 by Charcroft Electronics and all manufacturing of the TAB Silver Mica capacitors has been moved to Charcroft's premises in Mid Wales.
Allan Forsyth of TAB Components says 'After 29 years of business, I have decided to sell the business in its entirety to Charcroft Electronics Ltd. It is not a decision that I have taken lightly and I have spent considerable time looking for a company with the capability and expertise to offer customers the same high level of personal service as TAB.
I am, therefore, very pleased to announce that Charcroft Electronics has agreed to acquire TAB Components Ltd.
The similarities between TAB and Charcroft are striking. Both companies are:
Small but well-established manufacturers
Privately-owned and independent
Focussed on offering a high level of quality and a personal service
Fully approved
Charcroft Sales Manager, Debbie Rowland says 'The acquisition agreement means that Charcroft will fulfil all open orders which are due for delivery after 31st October. Charcroft will also support new orders for any TAB parts. I will be working closely with TAB's Managing Director, Allan Forsyth, to provide the specialist support and personal service which characterises both Charcroft and TAB.'
Letter to joint customers from Charcroft Sales Manager Debbie Rowland
Below are the product ranges that were previously made by TAB Components and are now manufactured by Charcroft. Please contact us if you have any requirements that are not met by the standard design as we do accommodate custom made parts.
Tab Silver Mica Capacitor Full Range Catalogue | PDF 3Mb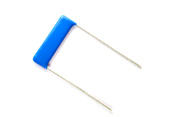 SBH Dipped Radial Capacitors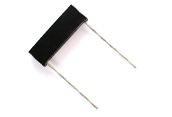 SB1 and SBA108 HV & HF Capacitors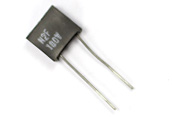 Radial Moulded Silver Mica Capacitors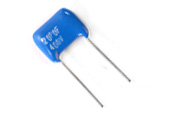 Radial Dipped Silver Mica Capacitor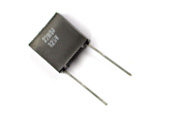 A3M-HT & SM1-HT High Temp Capacitors
Close
A3M-HT & SM1-HT High Temp Capacitors




These capacitors are encapsulated in silicone rubber and designed to operate at high temperatures, a very small change in mica capacitance with temperature ensures that the capacitance remains within the stated tolerance over the entire working temperature range.




Product Docs

A3M-HT & SM1-HT High Temp Capacitors Datasheets | PDF
Close
Radial Dipped Silver Mica Capacitor




Terminations are tin coated copper wire and meet the requirements of BS2011 robustness of termination. All capacitors are encapsulated in thermo setting resin to provide excellent humidity and mechanical protection. In addition these devices are moulded with 'stand-off' feet to ensure flux vapours escape and stability is ensured during flow soldering. The encapsulation and coding materials have been specially selected to ensure they are not affected by solvents commonly used for cleaning and flux removal on PWB's.




Product Docs

Dipped Radial Silver Mica Capacitors Datasheets | PDF
Close
Radial Moulded Silver Mica Capacitors




Terminations are tin coated copper wire and meet the requirements of BS2011 robustness of terminations. All capacitors are encapsulated in Thermo setting resin to provide excellent humidity and mechanical protection. In addition these devices are moulded with 'stand-off feet to ensure flux vapours escape and stability is ensured during flow soldering. The encapsulation and coding materials have been specially selected to ensure they are not affected by solvents commonly used for cleaning and flux removal on PWB's.




Product Docs

Radial Moulded Silver Mica Capacitors Datasheets | PDF
Close
SB1 and SBA108 HV & HF Capacitors




The SB1 and SBA108 capacitors have a low loss dielectric, making it suitable for use in equipment such as transmitter filters which involve high alternating voltages, high frequencies and high currents. The internal construction of the capacitor ensures that the rated voltage is well below the voltages where ionisation discharges occur.

A very small change in mica capacitance with temperature ensures that the capacitance remains within the stated tolerance over the entire working temperature range.




Product Docs

SB1 & SBA108 HV/HF Capacitors Datasheets | PDF
Close
SBH Dipped Radial Capacitors




These capacitors are specially designed for use with transmitter filters of up to 1kW power output. Any capacitance value can be supplied within the range stated below in 1pF steps. Capacitance tolerance is ±1pF up 100pF and ±1% above. Capacitors are designed to operate at RF and will run cool under normal transmitting conditions. All materials used in their construction are non ferrous therefore minimising inductive effects and subsequent heating of capacitors and other components in close proximity.




Product Docs

SBH Dipped Radial Capacitors Datasheets | PDF